What To Do During A Farm Stay Tour In Perth
10 June, 2016
A visit to Perth will surely be a delight both for first-timers and old-timers. Perth, being one of the most well-known cities in Australia has a lot to offer its guests. From different breathtaking sights you can tour by the day to fulfilling one's gastronomic appetite, everyone will undoubtedly have a good time. But these are but just part and parcel of what this wonderful place can offer.
Have you ever thought of having a farm stay tour in Perth? A farm stay tour is one where you get closer to wildlife and nature. This is an extraordinarily different experience for you and the entire family or the rest of the gang. If you are interested in trying this activity, it is best to note your options for such. Here are some of the activities to include in your to-do-list when this is the case.
Kangaroo feeding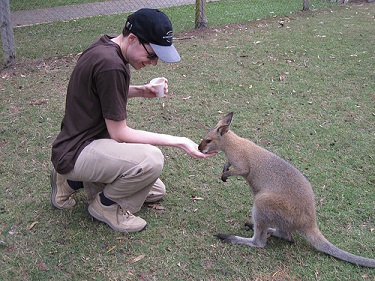 Kangaroos are perhaps one of those animals Australia is best known for. When in Perth, you should not miss the opportunity to feed these animals during a farm stay tour. You will have a chance to do this during your visit to Swan Valley and Wildlife Park in the Swan Valley Region. You also get the chance to extend your farm stay to two days if you think one day is not enough to tap the forest and wildlife of the region. You can always adjust your farm stay and increase the chance of having kangaroo and wildlife encounters depending on who you are booking your farm stay with.
Fruit picking
A visit to a farm will never be complete unless you get to taste the local produce of the place you are visiting. In Perth, you are given the chance to pick fruits when visiting the Swan Valley Fruit Orchard. During your stay in this farm, you can also have access to the Swan Valley Wildlife Park. Get the chance and have a glimpse of the robust wildlife in the Swan Valley Region during this tour. This will be a truly great bonding time for you and your kids. They will definitely find fruit picking an experience for the books.
Wine tasting
If there is yet one more remarkable tour opportunity that you should not miss out on when in Perth then that will be the wine tasting that comes with a farm stay tour. When in Swan Valley, you will have access to the finest winery and brewery in the region. Make sure you take a sip of each of the wine you will get to taste during the tour. When booking for a wine tasting farm stay tour, try to check if there are other packages that come with it so you can always bring your children around if you have one.
In order to enjoy whatever type of tour you will book for when in Perth, it will be best to consider hiring mini buses. These ones work for a family or a group of friends and can even serve corporate outing needs. Call us for your inquiries regarding minibus charter in Perth.
Search
Recent Posts
Categories
Archives